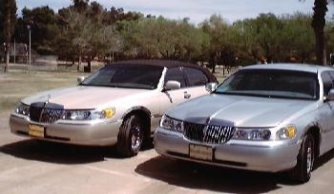 A+ Rated, we are celebrating our 20th anniversary of servicing our customers. We are Arizona's, Tucson airport transportation
specialist
and one of the oldest limo town car luxury sedan companies in Tucson. Roadrunner specializes for all the Tucson metro, Tucson airport transportation, plus to and from the Marana, Mesa & Phoenix Sky Harbor Airports for homes, offices and hotel/resorts.
Besides providing Tucson Airport Transportation and servicing all the local airports from the Tucson area, we also provide Southern Arizona Sightseeing and Custom Arizona Tours covering not just southern, but all of Arizona. Also, we now have a Travel Division, that originally was established to show our appreciation to our loyal customers for their business, by providing them many different ways of saving them both time & money when they book their own travel online. It has helped them so much, we decided to expand our services to everybody. Roadrunner-OLB, our travel division, is not a travel agency, we simply provide the ways & means of how you can save both time & money when booking your own travel, via the internet. For more information simply click on travel at the top of this page.
Do you really want to wast your

VALUABLE

time juggling rented or private vehicles?
Do you feel

DISORIENTED

with the constant airport constructions & heightened security?
Are you

FEARFUL

of car theft or damage from baking sun in parking lots?
Are you

FRUSTRATED

with delayed flights or wandering shuttles?
Are you

TROUBLED

with the questionable reliability/cleanliness of cabs?
Let Roadrunner Solve ALL your Transportation Woes!
LUXURY SEDANS:
Clean & Well Maintained: Air-Condition;

Smoke-Free.



SERVICES:


Passengers Met & Greeted; Constant Flight Tracking; Reasonable Rates.



PROF. DRIVERS:
Highly Screened & Knowledgeable; Professionally Dressed; Courteous & On Time; All Speak English Well.

Roadrunner

has been providing the Tucson community residences, business, hotels & resorts safe, secure, hassle-free airport transportation to & from Tucson, Marana, Mesa and Phoenix Sky Harbor Airports as well as
providing southern Arizona, sightseeing tours since

1992

.
We've observed airport
deteriorate rapidly into exasperating & anxiety-filled experiences caused by: heightened security resulting from

9/11 terrorist attacks & threats

; constant

construction

of our airports; & the deregulation of the airlines, resulting in

poor

customer service, delays & cancellations. We

specialize in leaving you stress & frustrations

at the airport.

One of the ways our customers have found to relieve their stress & frustrations, is flying in and out of Phoenix Sky Harbor, instead of Tucson, particularly during the winter, because they get a lot more direct flights, and not have to worry about the connection problems. Plus, if they are landing in Phoenix, we generally can have them home in their house, office or hotel about the same time or before, when they would be landing in Tucson.
We pamper our customers with timely, clean, air-conditioned luxury sedans, driven by professionally dressed, well-screened & knowledgeable drivers expediting you & your luggage to curbside service at the airports. On your arrival or return, we're there to greet you in the airports with signs, then promptly drive you & your luggage to your final destination. Never again worry or be frustrated by flight delays or drivers that don't show, for we continuously track your flight.

Payment is very convenient, we accept cash or credit cards. Businesses or corporations with guests, small groups or seminars can prearrange billing. Airport transportation reservations usually require 12 to 24 hour notice.



WE ACCEPT: